Garage Gate Rockland County
META Garage Doors repair and install Garage doors and gates in Rockland County New York. You might be in need for garage door installment in Nyack, or for gate repair, META Garage Doors can help. Garage gates in Rockland County are the ideal solution for people who own a property such as a parking lot, a storage warehouse, a shop, or a residential garage, and who's searching for a garage door or rolling gate that will provide security and that at the same time will barely take space from where it is installed. The garage gates, sometime called overhead doors, garage doors, rolling gates, rollup gate, or other titles make the perfect answer for home owners who's interested in a security solution that will prevent unwelcomed from getting into their property, and at the same time will be nearly hidden when it open and that will take 0 space. META Garage Doors can supply and set up, repair, and maintain any kind of garage gate in Rockland County. Years of expertise, and deep knowledge of the garage gates field, taught us that there is no such thing as garage gate problem that can't be addressed, commercial or residential.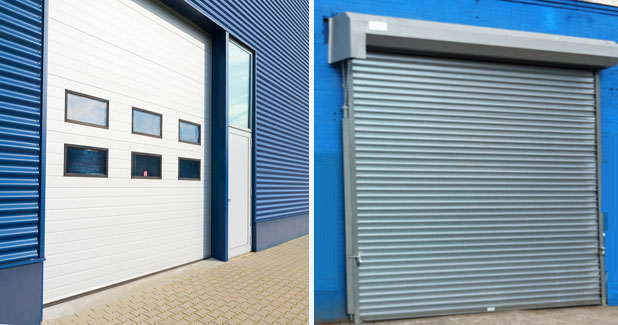 Garage Gates can be dangerous!
There is a reason why safety is the first thing we would like to discuss in the current post. If you are the owner of a garage gate in Rockland County, you are probably using the garage gate for many years now, and you are used to a garage gate that open and closes every time you want it to do so. You might be the owner of commercial garage gate in Rockland County, or garage gate in Westchester County, the steel gates in Rockland County are designed and built to operate safely whenever we need them to do so. But once every few years something can go wrong with garage gate, and when the gate is out of tracks, the garage gate is broken, or if the motor of the garage gate is not opening or closing the gate, using the gate is dangerous. This goes for all kinds and types of garage gates in Rockland County: It can be a damaged industrial rolling garage gate, or a house garage gate, whenever the gate is broken, do not try to use the garage gate, and for sure do not try and force the garage gate to open up or to close. Any attempt to do so can end with and accident, and even with injuries. Contact a local garage gate repairman in Rockland County to inspect the gate, repair it, and make sure that the garage gate is safe for use.
Garage Gate Setup Rockland County
The exact same way a chef of a gourmet restaurant is going to try to get the best products and components, since he realize that it will have an effect on the final result – a perfectly made dinner, the same goes for garage gates setup in Rockland County. If you are going to try to reduce costs on the wrong places, and buy a low quality  and cheap garage gate because it is the least expensive, you will discover that you end with a gate that will require service often, and rather than having a garage gate that will work for many years without any issues, and all it will require is some greasing, you will get a new garage gate for a minimal price, and you will think you got a good deal, but when the problems begin, and you will need unexpected emergency service, you will understand why META Garage Doors encouraged you to get the garage gates from the better quality.
Yes, quality cost money, and you can find cheaper suppliers in Rockland County New York who will be able to offer magic quotes which will be too good to be true. But the truth is that there are no magic, and there are no high quality doors that you can buy for $299 as other companies will try to sell you. We at META Garage Doors offer quality.
Garage Gate Repairs Rockland County
If you a store or a warehouse in Rockland County New York, and you are using a storefront rolling garage gate, or a rollup garage gate, you probably know by now how important it is to have commercial rollup garage gate which work well and that open and close with no issues. There are many commercial garage gates in Rockland County, to fulfill different purposes and to provide different solutions, since different entrances require different types of garage gates.
For some business entrances, the basic rolling gate, that can be opened and close with a gentle push a push-up gate will be enough, and for some business, mostly those who use the garage gate multiple times a day there is a need to motorize industrial the garage gate so opening and closing it will become easy. Whether it is a garage door installation in Rockland County, or push up roll up garage door Bronx, they all have one thing in common: They all need to be strong and reliable, like every industrial garage gate in Rockland County we install should be. And they all need to be maintained and greased to ensure their smooth and uninterrupted movement all year round.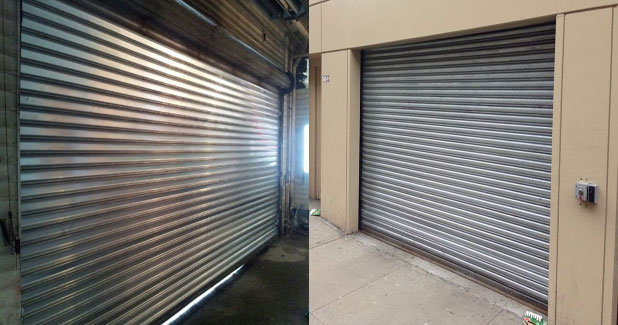 Commercial garage gate Rockland County
Fixing broken commercial gates is not a job that can be completed with a basic toolbox, and for sure it is not a job for the local handyman or for armatures. In order to be able to repair commercial garage gates, you need to have experience in dealing with commercial garage gates, and you need to have knowledge that only many years of fixing industrial garage gates in Rockland County can teach. The reason is that every industrial garage gate in Rockland County in unique, manufactured from different materials, and installed in a different way. And if someone was able to repair commercial heavy duty garage gate in Rockland County once, it doesn't indicate that that he will be able to fix all garage gates that can come in many different shapes. Since if you would like to fix commercial rollup garage gate in Rockland County you need to be ready for many surprises that come along the way, and you need to be able to offer emergency garage gates services, since there is never good time for industrial garage gate to get stuck, and often the garage gate get stuck at the worst possible timing. Avoid DIY garage door repair attempts, and call a local specialist who can deal with heavy duty garage gates that can be found in Rockland County New York.
Motorized Garage Gate Rockland County NY
If you own a motorized garage gate in Rockland County, and you are unable to open up the garage gate or to close it, do not be sure that it is due to a problem with the garage gate motor. Although it may seem to you like the motor cannot open up the garage gate, it may be due to different reasons that none of them is the opener itself. We, at META Garage Doors, get many emergency repair calls for service from owners of garage gates in Rockland County, telling us that there is something wrong with the garage gate's electric operator, and often when we arrive we discover that the reason the motor cannot open or close the garage gate is due to a problem with parts of the garage gate and not the motor. In many cases, it is actually the spring that broke, or got lose over time, and prevent the gate from working properly. And if the case is indeed a broken gate spring, you might need to hire a spiciest who can replace a broken commercial garage gate spring.
Garage Gate Installment Rockland
Since the garage gates are great solution for store owners who want their business to be secured, but at the same time do not want a garage gate that will take space from their store, the garage gates became a great solution. If you own a business in Rockland County, just look around you when you walk or drive, and see how many different kinds of garage gates there are. It can be a storefront rollup gate in, a rolling iron door for a warehouse, steel rolling gate, commercial gate, residential garage gate and more. When you are looking to install new garage gate, whether it is to install new garage gate in Monsey, or new storefront gate, there are few things you should consider before you make a decision which gate to purchase and install. There are many options and designs for new garage gates that you didn't even think to consider (Like a see-through garage gate, or a push-to-open gate). This is one of the many reasons you need a consultation from a skilled gate expert, which can bring all the possibilities, and will help you to choose the right garage gate for you. META Garage Doors supply and install all kinds of garage gates in Rockland New York, including commercial roll up gates, garage gates and more. To schedule an appointment for a new garage gate installment, get in touch with us, and one of our experts will be happy to assist you.
Which Gate to install?
There are several open questions that need to be answered in choosing to install new garage gate, and before making your choice, it is good to research, and learn about garage gates in Rockland County. In our post about new gate installment, we explained which are the questions need to be asked when considering a new gate installment. and help you get a much better idea a about garage gates installment, which are the best garage gates, which are the more effective gates, which are the gates that you should avoid, and which garage gates are the gates that can still work and protect your business even after thirty years.
New Garage gates installment NY
META Garage Doors believe in quality. Since when we install a top quality garage gate, we are adding one more client to the list of satisfied customers who used our services, and who can highly recommended about the services of META Garage Doors to those who need garage gate service in Rockland. A good garage gate, which was created from strong components, can last more than thirty-eight years. So when you invest in quality components and high quality strong gate motor, it may seem to you that you are paying more than you should pay for the cheap gates, but when one day - after a decade of using a smoothly operating garage gate - you will look at your gate, and think that the gate is still functioning like it worked the day it was installed, you will know that quality is always the best choice. It might be anew gate installment in Haverstraw, or a garage door repair Pomona, aim for quality, and get a gate that will serve you for many years.
24-7 Garage Gate Service
We understand that gates and doors can get stuck during different hours and on different days. To assist our clients, we offer 24-7 emergency gate repairs in Rockland County. You might need repair for a commercial overhead door in Richmond County, or to get help closing and securing your store in Rockland County, we will be there to assist you. With our 24-7 repairs, we can provide repairs and solve emergency issues. We might not be able to complete the repair on the spot, but we might be able to provide you with a temporary solution, until we will manufacture the parts, and complete the repair. For same day service in Rockland, call META Garage Doors now.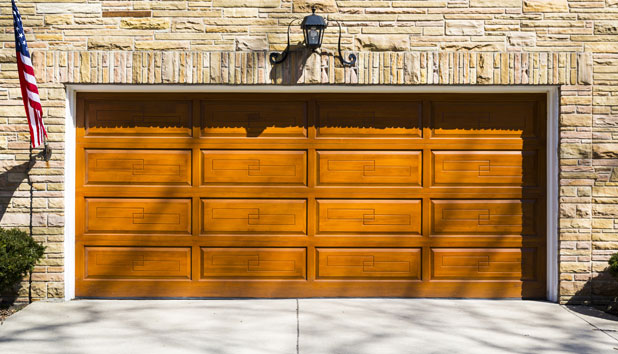 Garage gate Rockland County
Call: 845-200-2414.