Roll Up Doors Case Studies
Roll up doors and gates situations and troubleshooting
Almost every store, warehouse or parking lot near Rockland County is using a rollup door or a roll up door for security. Some people might wonder why the roller shutters and the roll down doors are so popular near Rockland County, and why many business owners choose the steel roll-down doors to protect the store. There are many possible reasons for that, the roll up gates are reliable, they barely take any space when they are open, they are relatively cheap, and you can choose if to make them motorized or you can choose to use them manually (chain system or push to open rollup door). In this post we would like to bring few situations about roller shutters malfunctions and troubleshooting.
The situations are not a recommendation to try and repair or replace the parts of the roll-down door by yourself. But it can give you general idea about the way steel roll-down doors operate, how to recognize when there is something wrong, and how to deal with a busted rolling steel door. The best thing to so when experiencing issues operating a rollup door is to get in touch with a local rollup doors company near Rockland Countyto come and repair the rollup door for you.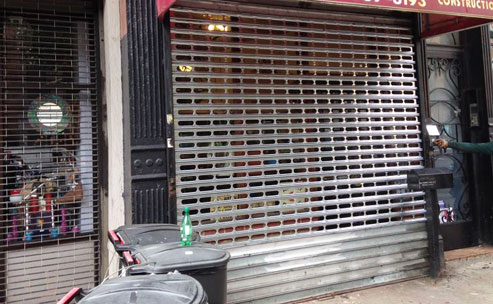 Situation #1: Busted spring on a roll-down door
You might not be aware to a certain fact, but the rollups are equipped with a spring, that makes it easy to open and close the shutter. There are many different types of steel roll-down doors near Rockland County, and the spring is what makes them operable with minimum force.
Now, many storeowners near Rockland County, when they find that it became tough to open their roller shutter, assume that some greasing is going to solve all the issues. Usually when a malfunction appear, it remind them that it has been a while since they greased the shutter. The truth is that when the spring is busted, it is probably too late for greasing as a method to fix rollup door. When there is a problem, you will need to hire a local gate expert near Rockland County to come and repair the shutter for you.
The roller shutter spring is not something that you simply buy at home depot, at the local hardware store, or online, each gate require a specific spring, which will manufacture for that specific gate, in terms of size and weight. Besides getting the spring, installing it is another problem that need to be dealt with. Replacing a spring for roll-down door is a complicated task, which require tools and knowledge that not every handyman has.
The situation: One day we got a call from a store owner in Nyack New York, telling us the storefront rollup door is jammed. When we arrived, we discovered that the customer loaded the shutter with grease, thinking that something the tracks will fix the issue. Just to remove the massive amount of grease and lubrication took us almost as much as replacing the busted spring took us.
What to do: When there is a jammed, twisted, or broken rollup door's part, no amount of grease will solve the issue. The rollup door must be repaired, and the busted part need to be replaced before the rolling steel door will work again. Call a local rolling gate technician who specialize in commercial rollup doors to come and repair the door for you.
Situation #2: The motor is not working
The majority of the steel roll-down doors near Rockland County are motor-operated. If you own opener-operated roller shutter, and it seem like the motor isn't working, it might be an issue with the door's operator itself, but it is also possible that the problem comes from a different source. It could be something with the roller shutter itself, or even electricity malfunction. The bottom line: Hire a qualified rollup door vendor for the service. A qualified specialist, as all the rollup doors experts of Meta Garage Doors are, can inspect the shutter, the motor, and locate the real malfunction.
The situation: We once received a call from the owner of a warehouse in Spring Valley NY, telling us that they need a technician to check their roller shutter. When we got there, we were told that another company installed for them a new motor couple weeks ago, but the shutter keep getting stuck. And that they decided to check with a different company. When our rolling door specialist checked the shutter, he discovered that the problem is not really the motor, but that the rollup door's spring is very weak. It is possible that there was no need to replace the motor in the first place.
What to do: Not every issue that seem like opener malfunction mean that you need to replace the motor. Often, the issue come from a totally different source. And a qualified rolling door expert can reveal the real issue.
Situation #3: The gate came out of the tracks
A roller shutter that come out of the tracks is not rare, and it is one of the most common issues. The reasons that push a roller shutter out of the tracks are many, and the ways to service and repair off tracks gate near Rockland County are many. The most important thing is to make sure that the shutter will not be touched or operated until a roller shutter expert will come and fix the shutter.
The situation: We once received a call for off tracks rollup door repairs. When our team arrived, we discovered the problem, and we quoted the repair of the shutter for $150. The store owner refused, and told us that he can fix it by himself and he will not pay that amount. He paid us the service fee of $29 and we left. At same day's midnight, the dispatch receive a call for emergency commercial rollup door repair at the same address. We sent a technician again, and what the technician saw was that the whole roller shutter fell from the tracks and now on the floor!
What happened was that the warehouse owner and his friends attempted to repair the roller shutter without the proper tools or knowledge, and they ended with a gate that broke in a way that couldn't be solved without completely replace the shutter, the spring and the motor! Instead of paying $150, now the price will be more than double!
What to do: What might seem simple to someone who doesn't know a lot about commercial rollups, can be much more complicated than it appear to be. And when the rolling gate is off tracks, and to you it seem like all you need to do is to push it back, can end with serious damage if you choose to try and do it yourself. When the shutter is off tracks, hire a local vendor who have experience in servicing rollup doors in Rockland County to do the repair for you. It will save you money, and at the end the shutter will work again and will be safe for use.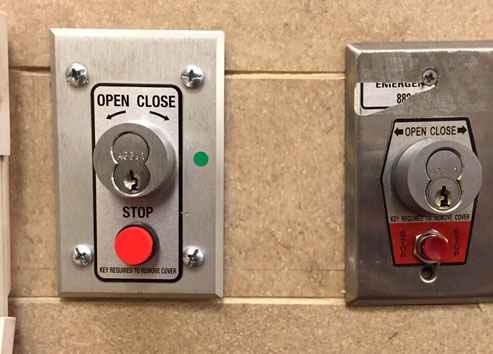 Situation #4: New roller shutter installation
If you own a moving company, it will be ridiculous if you will purchase a motorcycle instead of a truck. The same goes for the commercial rollup door in Rockland County. If you need a rolling steel door for a parking garage, which service tens of vehicles each day, it will be a mistake to install roller shutter that meant to be installed at a storefront. Just the amount of times a day the shutter will be used is enough to know that the shutter will get stuck or fall from tracks soon.
The situation: We once sent a quotation for new rollup door installation Westchester New York. We quoted the job for $3950 +Tax. Another rollup doors installer quoted the job for $2300. We explained to the client that the difference is not possible, and that something is suspicious, but he insisted. We wished the client a lot of luck and left.
The problem was that the roller shutter they offered for a parking lot near Rockland County which contain more than 25 vehicles, and being used more than 100 times each day, is a gate that should be installed at a storefront which use the storefront roll up door twice a day. Sometime people try to save money, but they do that at the wrong places. The roller shutter the other company installed lasted for 3 months. During the 2 months they replaced 2 openers. At the end the client called us and asked us to do replace the shutter. It was on 2010. The rollup door Meta Garage Doors installed is still working with no issues. And all we do is maintain it 4 times a year.
What to do: A new vehicle can cost like 5 motorcycles. But what 5 motorcycles cannot do, that vehicle can.  When you invest at something, check not just the price, check what you get in return. Steel roll-down doors is a general name for many rolling gates and overhead doors near Rockland County, but not every roller shutter can be the right gate. As we explained, the shutter which will be the right gate for a storefront door in Brooklyn New York, will not be the right gate for a busy parking lot in Congress New York. Use a roller shutter expert to help you make the right decision, and get a roller shutter that will work safely and smoothly for many years, as every gate Meta Garage Doors installed near Rockland County does. Sometime in life the cheapest turn to be the most expensive, and the more expensive end as the best investment. And steel roll-down doors near Rockland County are no different.
About Meta Garage Doors
Meta Garage Doors of is a company who specialize in garage doors, rolling gates, roller shutters, store front doors and more in Rockland County New York. Meta Garage Doors offer same day service for commercial and private home's overhead doors, as well as industrial steel roll-down doors. After more than twenty five years of servicing doors and roller shutters near Rockland County, we can say that no project will be too complicate for us. From commercial overhead doors, to residential garage doors, to storefront roller shutters, get in touch with us, and we will be there today. We accept all major credit cards, and we are insured. We offer both emergency serviced as well and brand new rollup doors installation around Rockland County New York.