Garage door Maintenance Rockland County
Every overhead garage door need to be maintained, tuned and lubricated. It can be a garage door in Monsey, garage door in Rockland County, or even roll up gate, maintaining a garage door is the key to make sure that the door will go on and work for many more years, and that it won't need repairs in the near future.
To make sure that your overhead door in Rockland County will continue to work in a perfect way for many more years, you need to perform a garage door tune up (Garage door maintenance), at least twice a year. Performing the maintenance will do 2 things: It will improve the way your garage door move, since you will lubricate some of the moving parts, and it will preserve the parts from break or getting rusted from the weather damages, and from the daily use of the door. And buy lubricating the door, you are decrease the chances that you will need garage door repairs in Rockland County in the near future.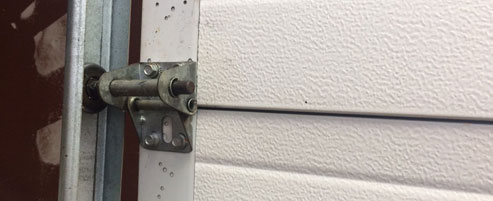 Overhead door maintenance and repair
Although the garage door tune up will improve the movement of your garage door, and it will protect and preserve the parts of the door, the garage door maintenance is not a substitute to repair. If your garage door is broken, and need to be repairs, it won't matter how much lubrication you will spray on it, it won't work.
If you are visiting this page since there is something wrong with your overhead door, if the spring snapped, the roller went out of the track, or if the opener is stuck, do not expect that the maintenance will make your door working again, the maintenance is to preserve a door which is already working. If you need a garage door repair in Rockland County New York, please contact us for a same day repair service. Again, do not assume that since you have been neglecting the need of your overhead door for maintenance, now some lubrication will make it work smoothly. If the door need repairs, you can use gallons of garage door lubricant, and it will not help, since the door need repairs.
The Garage Door Tune-Up
Before we begin with the tune up process, we would like to make it clear that the instructions we are writing are only recommendations, and cannot replace the opinion and the knowledge of a garage door repairman who come to your place and physically examined it.
One more important thing that we would like to clear is that safety comes first, since nothing worth putting yourself, or a member of your family at risk. No garage door service worth to get injured for. If you are not sure if to maintain or repair, if you think that there might be something wrong with the door, call a garage door technician in Rockland County to come and assist you. Meta Garage Doors offer same day garage services in Rockland County. Whether it is emergency garage door repair in Monsey, or new garage door installation in Nyack, we can help.
Step by step garage door maintenance
A complete garage door maintenance include 3 steps:
Lubrication
inspection
Safety check.
But before we will go over the process, we would like to start from the safety.
Overhead door service and Safety
If you are not sure what to do, stop, and ask a garage door expert. An overhead door maintenance is not a place for guessing, and hoping things will work themselves fine. Overhead garage door can be very heavy, under a lot of tension, and as such can be very dangerous.
Make sure that the people who use the door are aware to the fact that you are working on the door, and until you will tell them you completed the tune up, they shouldn't try and use the door. You do not want someone to try and open the door when you are in the middle of the maintenance.
Disconnect the opener's plug from the electricity (In case someone will try to open the door remotely while you are working on it).
Inspect the door and the parts, to make sure that all the parts of the door are whole, none of them is lose or broken, and that the door is balanced.

Lubrication
There are many moving parts in the garage door, and they need to be lubricated. Lubricate the rollers, the hinges, the pulleys, the springs, the tracks, the shaft bearings, the drums. If you are using a chain drive opener, use grease for the chain. Use lubricant which was designed for overhead doors.

Safety check
Make sure that there are safety cables installed, if your door is operating with extension spring system. If not, add safety cables, or call us for garage door service in Rockland County.
If you own an automated garage door, check the reverse mechanism. There should be safety sensors included, which are there for protection. While the door is closing, cut the laser beam between the safety sensors and make sure that they signal the motor that something is blocking the door's path, so the door will stop and reverse to open position. If you own an automated garage door, but the door doesn't include safety sensors, the door is dangerous, and should not be used. There is a federal law that require that every garage door to be automated. It can be commercial garage door Nyack New York, or garage door in La Puente, every automated garage door must include safety feature.
Cleaning the garage door
Clean the garage door from dust and dirt. You can use door wax to keep it protected from moist. If there is a tremendous amount of dirt, make sure that you are using the right cleaning materials and tools for the job.  You do not scratch the door or damage it.

Adjustments for the door
Depending on the model of the door and the motor, Sometime adjustments should be done to improve the way the door operate, by adjusting the tension on the springs and the motor. There are also more adjustments that can be performed, but you need to consider using a qualified garage door technician for that, since they may require deeper knowledge in the garage doors, like torsion springs that need some adjustments.
Commercial Overhead door maintenance
The commercial overhead doors are usually being used much more often than a residential overhead doors in Rockland County. We recommend to maintain a commercial door twice every year, to make sure that the door is safe for use, and that the door will continue to work for many more years.
Since a commercial door maintenance require special tools and deeper knowledge than the residential overhead door, we recommend you to contact a garage door company in Rockland County, which offer services for commercial garage doors. The reason is that the commercial overhead doors include heavy duty parts, and require power tools and parts that you may not possess, and commercial overhead doors may not fir for do it yourself garage door repairs.
Roll Up Gate Maintenance
From the knowledge we acquired in the overhead doors and rolling gates repairs in Rockland New York, there is one thing which stand out, and that we would like to recommend it to you. That thing is Rolling Gate Maintenance. You may own a garage door in Spring Valley, a roll up gate in Bronx, or a roll up door in Rockland County. And they all have one thing in common: They all need to be maintained twice a year in order to maintain the way the work, and in order to make sure they will continue to work for many years and won't require repairs or even replacement.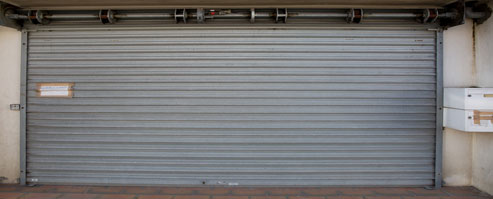 Who need rolling gate maintenance in Rockland?
The short answer will be "everyone who own a rolling gate or a garage door". The long answer will require from us to explain to you why it is important to perform maintenance and tune up, before the gate will break, and you will need the services of a rolling gate technician.
While reading our post, you probably wonder: Why should I perform a rolling gate maintenance, if my rolling gate is working fine? We would like to answer it by taking an example from a different industry – The vehicles industry. The same why that you will not ignore the need of your car for oil changing and for tune up, even if it is a new car, and even if the car is driving perfectly, so does the rolling gates. And it doesn't matter if it is a rolling gate repairs in Rockland County York, or a garage door in Monsey, every overhead door need to be maintained. And when you think about the weather conditions in Rockland New York, and how unfriendly they are to the parts of the gate, you can easily figure how important it is to perform on time maintenance.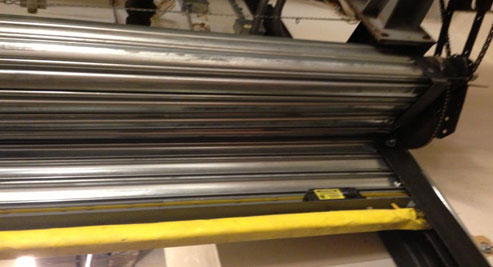 My roll up gate is stuck, do I need maintenance?
Unfortunately, the rolling gate maintenance is to prevent the situation of a broken or stuck gate, and to help the gate move smoothly by greasing it and tuning its parts. But if your gate is already broken, stuck or out of tracks, it is probably too late for maintenance, which still need to be performed, but only once a roll up gate technician in Rockland County will inspect and repair the roll up gate, and make sure it is safe for use again.
If there is a problem with your rolling gate which require repair, there is no amount of grease in the world that will fix it and make the gate working again. So if your rolling gate is stuck, contact a roll up gate repair service in New York to come and fix the problem.
Do I need a rolling gate specialist for the maintenance?
Unlike some residential repairs that can be performed in Doing It Yourself, form a commercial roll up door maintenance in Rockland County is something that we recommend to leave for a specialist. A gate maintenance is not just greasing the gate. A good and thorough maintenance include inspecting the rolling gate, tuning the operator, adjusting the spring, and safety inspection. 
As long as there is nothing wrong with gate, greasing can be enough. But the problem is that the only way to find if there is a problem is to inspect the gate, and sometime a gate that may seem like working perfectly, can require repair or part replacement, and in order to do so you will need a rolling gate specialist who work in Rockland County.
Do not assume that just greasing the gate will solve all issues. There are many reasons that can prevent a rolling gate from working properly, from broken or lose spring, to a problem with the operator itself. So if you are facing a broken or a stuck rolling gate, you need to make sure it is repaired, and only then, when the broken parts were repaired or replaced, the roll up gate maintenance should be performed.
How often should the gate be maintained?
Due to the weather conditions in Rockland County, we recommend to maintain the gate every 6 months. This is the right period of time to make sure that the gate will continue to work, and when you do maintain the gate every 6 months, the maintenance shouldn't take long, and usually inspecting the gate and greasing its parts will ensure that the gate will continue to work in a perfect and in a safe way. Maintaining the roll up gate on time, will increase the chances that your roll up gate in Rockland County will continue to work smoothly for many more year.

Which kind of gates need to be maintained?
The answer is – all of them. There are roll up gates that need to be maintained and greased twice a year, and there are gates that should be maintained 3-4 times a year. If you think about it, an interior gate, which is located inside a warehouse in New Rochelle doesn't require the maintenance that a roll up gate in NY require. A lot depend on how often the gate is being used, where it is located, if it is an electric gate, and how old is the gate. If you are located in Rockland New York, and you need someone to maintain your gate, Meta Garage Doors and Gates can help.
What will happen if the gate will not be maintained?
Many times during our rolling gates services in Rockland County, we are being asked: What is the reason for the problem, and why my roll up gate is stuck? In most cases, the reason is lack of maintenance. It doesn't mean that if you will maintain your rolling gate every 6 months the gate will work for ever, since eventually every gate will stop working and need to be repaired or replaced. But the maintenance can make the difference between rolling gate in Rockland New York that will work smoothly and that will barely need to be repaired, and a rolling gate that will only last 10-15 years, before it will require repairs.
Why maintenance is so important?
A basic gate maintenance is usually a simple process, which we perform on a daily base while servicing Rockland County New York. The price of rolling gate maintenance is relatively low, but the fact that it preserve your rolling gate, and allow the gate to continue to work is a big difference.
Just think that you arrive to your business in the morning, switching the key, and the gate doesn't go up. It mean that you, and all the people who need to access the store will have to wait until a rolling gate maintenance will arrive and repair the gate, And since the technician can be busy with other projects, and can take few hours before you will be able to use the gate again.
Or think that you are trying to close the rolling gate at the end of the day, and the gate just refuse to come down. In that case you may need an emergency repair service (Which will cost you a lot), and you will need to wait for company that fix steel doors in New York to come to your place and close the gate.
All of that could be prevented if you would maintain your gate on time! The maintenance could smooth the way the gate operate, but at the same time the technician who perform the service could locate the problem and repair it on time, before the problem turn into emergency, and before the gate complete stop working.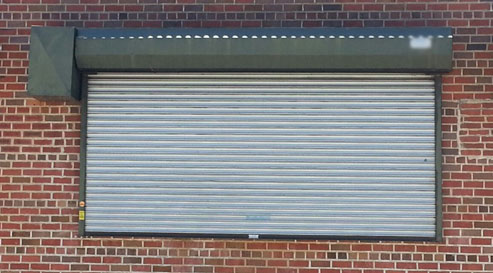 Rolling Gate And Safety
After many years of servicing rolling gates and garage doors in New York, we can say we saw almost everything. From people who had an out of track gate, and thought that greasing it will solve the problem, to people who tried to force the gate to go up or down, and ended injured.
Just like any other industry, the rolling gate repair is something that require knowledge and experience. Sometime it may seem to you that all you need to do is to push the roller of the garage door into the tracks and by that complete the repair, but what you don't know is that by doing so you are creating a bigger damage, and put the people who use the door at risk.
It doesn't matter if it is a roll up gate in Brooklyn, a garage door repairs Staten Island, or a commercial garage door in Rockland New York. It is always better to let a professional, who have repaired and installed rolling gates and garage doors in Rockland to deal with the problem.
Whether it is a rolling gate or an overhead door, they can be dangerous. The best thing you can do is to tell all the people who use them that something is wrong, that it is dangerous to use them, and that they shouldn't be used until they will be fixed by a professional repairman.
Our rolling gate services in Rockland New York:
We believe that a real pro should be able to deal with all types of gates and overhead doors, commercial and residential, repair and installation, maintenance and more. We at Meta Garage Doors offer a variety of garage doors and rolling gates services in Rockland County New York. Whether you need maintenance, repair or installation, we can help you.
All our technicians are trained, insured and professional, and they can deal with all types of garage doors and steel gates issues. Whether it is a repair service, a new installation or basic maintenance, we can help. If you would like to read what our customers think about us, you can visit or Yelp page, and read reviews about our services.
We offer same day repair and emergency repair for all types of overhead doors, roll up doors, rolling gates, swing gates, commercial doors and more. For a same day service in Rockland New York, please contact us.
Meta Garage Doors
Call: 845-200-2414